*Due to the current circumstance, all travel by Innovation PEI employees has been suspended until further notice.  Many upcoming events have been canceled, postponed, or rescheduled.  If you are unsure of a previously posted event, please contact one of our staff at (902) 368-6300.
Do you have an upcoming event that you think our community should know about? Fill out our Event Submission form so we can share it with our valued clients and partners.   *Subject to approval.
Jan
9
Thu
2020
Stop Random Acts of Marketing Workshop

@ Holman Grand Hotel, Dunes Room
Jan 9 @ 8:30 am – 10:30 am
Emergence presents a workshop in partnership with Mintent on effectively marketing your business in today's digital world. The workshop will encompass marketing best practices, knowing your audience, tools/templates, case studies and actionable take-aways. We invite you and your colleagues to attend this free workshop. Register now to save your seat!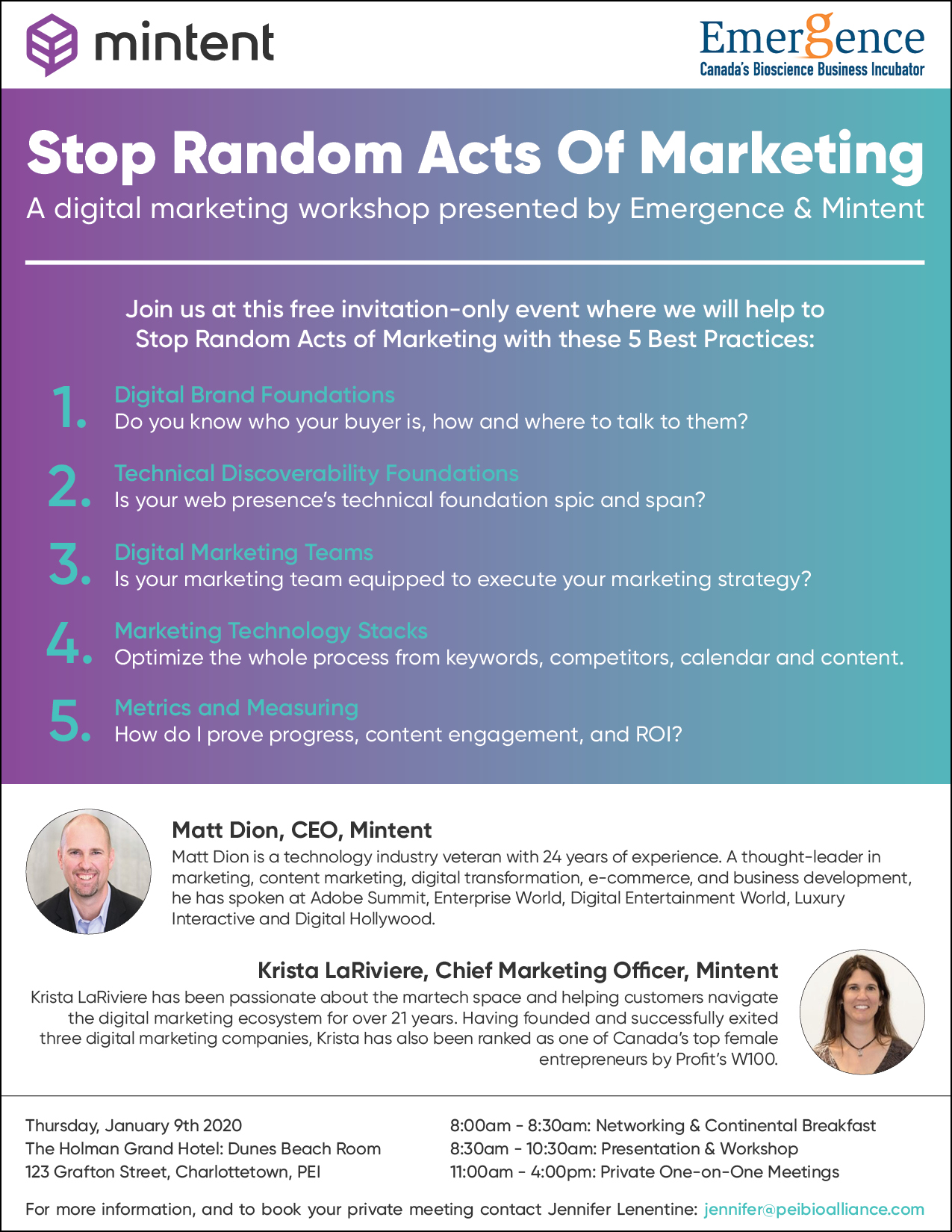 WHEN: January 9, 2020
TIME: 8:00am – 8:30am Coffee and Netowkring
8:30am – 10:30am – Stop Random Acts of Marketing Workshop
WHERE: Holman Grand Hotel, Dunes Room
Mar
20
Fri
2020
Canceled – Bioscience Showcase & Job Fair

@ PEI Convention Centre, Delta Prince Edward Hotel
Mar 20 @ 9:00 am – 2:00 pm
In light of developments around the Covid 19 Virus and based on recommendations for reducing community risk, the PEI BioAlliance has decided to cancel the Bioscience Industry Showcase and Job Fair, originally planned for March 20. If you planned to attend the job fair, please be sure to check our frequently updated postings and information.
We thank you for your understanding and invite you to keep in touch with the Island bioscience sector through our BioAlliance website and updates on Facebook and Twitter.
Yours truly,
The PEI BioAlliance Team
The PEI BioAlliance invites you to attend the
Bioscience Showcase & Job Fair
Date: Friday, March 20, 2020
Time: 9:00 am to 2:00 pm
The Showcase and Job Fair will take place from 9:00 am to 10:00 am AND 11:00 am to 2:00 pm. The Presentations will be held from 10:00 am to 11:00am.
Location: Harbourview Rooms, Prince Edward Island Convention Centre, Delta Prince Edward (4 Queen St, Charlottetown, PE C1A 4A2)
Premier King, Federal MPs and other guests will be part of our program, as we celebrate the past, present, and future of our thriving industry. Our bioscience businesses and research organizations will be promoted at booth and tabletop displays at the Showcase and the 'open house' format of the Job Fair will invite job seekers to learn about current and future opportunities within our companies.
Jupia Consulting will present the impressive results of the recently completed Economic Impact Assessment that demonstrates the rapid growth of the PEI bio-sector since the last assessment in 2014.
We will also have another important announcement for our Bio Sector that you won't want to miss!
This is a major celebration of success for our Bio-Cluster community, as we demonstrate to Islanders and our political leaders that the bioscience sector has become a leader in the economic sector and an important part of the future of our province.
Please sign up now to participate using the register button above. A continental breakfast and luncheon will be provided to all participants. We need your involvement for this to be a success!