*Due to the current circumstance, all travel by Innovation PEI employees has been suspended until further notice.  Many upcoming events have been canceled, postponed, or rescheduled.  If you are unsure of a previously posted event, please contact one of our staff at (902) 368-6300.
Do you have an upcoming event that you think our community should know about? Fill out our Event Submission form so we can share it with our valued clients and partners.   *Subject to approval.
Sep
16
Mon
2019
Invest Atlantic presents: Funding Founders

@ Casino Nova Scotia
FUNDING FOUNDERS
WHERE FOUNDERS & FUNDERS UNITE
TO EXPLORE NON-DILUTIVE FUNDING FOR ATLANTIC CANADIAN COMPANIES
SUPER EARLY BIRD ENDS AUG 15, 2019
Invest Atlantic and the National Angel Capital Organization have teamed up to offer very-early stage startups to mid-stage founders the opportunity to hear from and meet Canada's non-dilutive and dilutive funders. You'll discover new options to leverage non-dilutive funding while continuing to work with angel, VC investors and other equity-based funders.
This year Invest Atlantic celebrates its 10th anniversary by introducing Funding Founders. After touring the four Atlantic provinces making it a true pan Atlantic event we are pleased to be back in Halifax this year. Over 2,000 startups, investors, service providers, mentors, researchers, and entrepreneurially minded students have attended with over 560 companies funded.
Now it's time to build on that with a new wave of funding using a balanced approach to dilutive and non-dilutive financing. In collaboration, they can achieve impactful outcomes for founders, shareholders & funders alike. 
Sep
17
Tue
2019
Export Day 2019

@ Prince Edward Island Convention Centre
Description
Innovation PEI is pleased to invite you to Prince Edward Island's 2019 Export Day. This annual event has become a must-attend for exporters, entrepreneurs, business support organization and government officials that are involved in the international trade of Prince Edward Island goods and services. We are excited to present two keynote speakers, Dawn Truell, President of Cross Border Services and Andrea Johnson, Managing Director & Chief Storyteller of Brain Candy Marketing Ltd.
Export Day provides a great opportunity to get the most up-to-date information on the global economy, discover market trends and explore new opportunities for your business. Throughout the day there will the opportunity to network with fellow exporters, share ideas, discuss business needs and find new partners to help you capitalize on your export.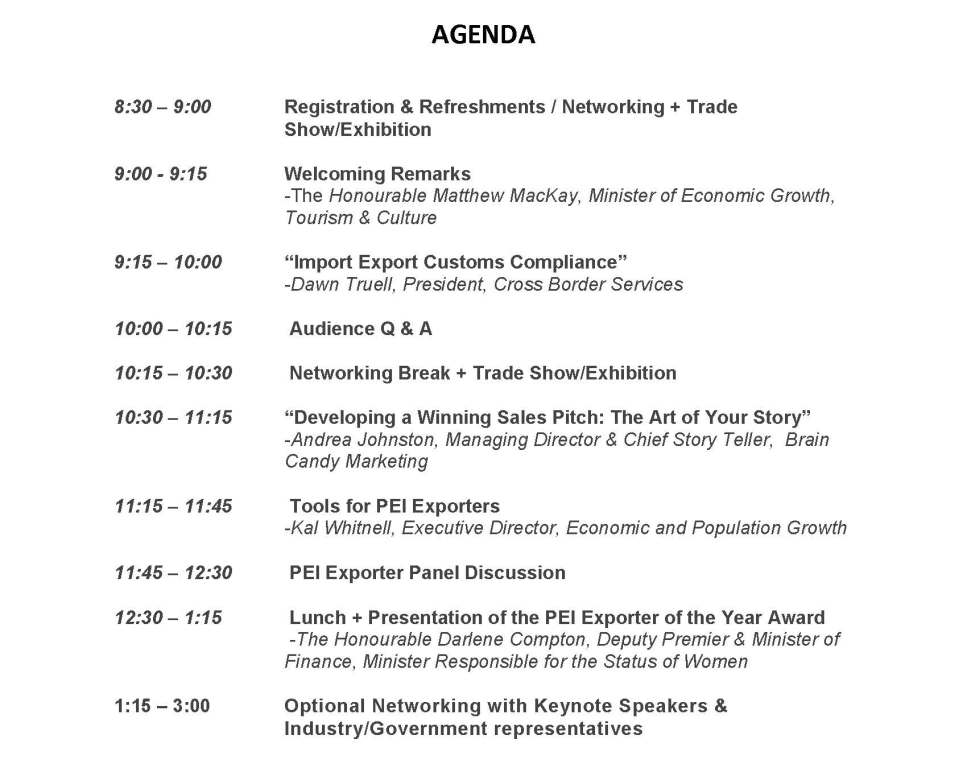 If you have any questions, please contact Alicia Birt by e-mail at albirt@gov.pe.ca or by phone (902) 368-6837.
We look forward to seeing you at #PEIExportDay2019
Jan
10
Fri
2020
Your Business Blueprint – Charlottetown
Jan 10 @ 10:00 am – 12:00 pm
Join PEI Business Women's Association for Your Business Blueprint, a workshop for aspiring entrepreneurs who have a business idea and now want to get it on paper.
A business plan can be a key tool in helping entrepreneurs assess feasibility, evaluate direction and, in particular, attract external funding and investment. This workshop will outline the common requirements of a business plan and the resources available to help you write it.
This workshop will be offered by Mary Lou Bassett. Mary Lou is the Business Development and Membership Officer of the PEI Business Women's Association. She is an entrepreneur with over 20 years experience in the hospitality, skin care and property management industries. She recently completed her Executive MBA from the University of Prince Edward Island. Mary Lou is conversant in English, French and Arabic and serves as an advisor to help PEIBWA members solve business-related problems. Mary Lou also sits on the Board of Directors for Habitat for Humanity PEI and says she has honed her negotiation skills with a lot of help from her three children.
This event is free to all PEIBWA members and $25 +HST for non-members. Spaces are limited so register early!