Do you have an upcoming event that you think our community should know about? Fill out our Event Submission form so we can share it with our valued clients and partners.   *Subject to approval.
Aug
16
Fri
2019
2019 Pan Atlantic Aquaculture Mission to Norway and AquaNor
The Atlantic Canada Fish Farmers Association, in partnership with the Atlantic Canada Business Development Program (BDP), invites you to participate in the 2019 Pan Atlantic Canada Aquaculture Mission August 16 to 23, 2019.  AquaNor, held in Norway every two years, has been an important international venue for the aquaculture industry for over 30 years. Here the industry is introduced to all the novelties, products, services, and research and development projects of relevance to the industry. Exhibitors emphasize the unique opportunities that AquaNor provides for interaction with decision-makers and buyers representing the international aquaculture industry. Visitors find that AquaNor offers the best overview of products and services provided by the principal suppliers of the trade, making it a key biannual event for businesses seeking to increase their exports or learn about new technologies that can be imported to enhance production in Atlantic Canada. For more information please contact Brian Rogers at Rogers Conuslting Inc. at (902) 497-5898
Sep
17
Tue
2019
Export Day 2019

@ Prince Edward Island Convention Centre
Description
Innovation PEI is pleased to invite you to Prince Edward Island's 2019 Export Day. This annual event has become a must-attend for exporters, entrepreneurs, business support organization and government officials that are involved in the international trade of Prince Edward Island goods and services. We are excited to present two keynote speakers, Dawn Truell, President of Cross Border Services and Andrea Johnson, Managing Director & Chief Storyteller of Brain Candy Marketing Ltd.
Export Day provides a great opportunity to get the most up-to-date information on the global economy, discover market trends and explore new opportunities for your business. Throughout the day there will the opportunity to network with fellow exporters, share ideas, discuss business needs and find new partners to help you capitalize on your export.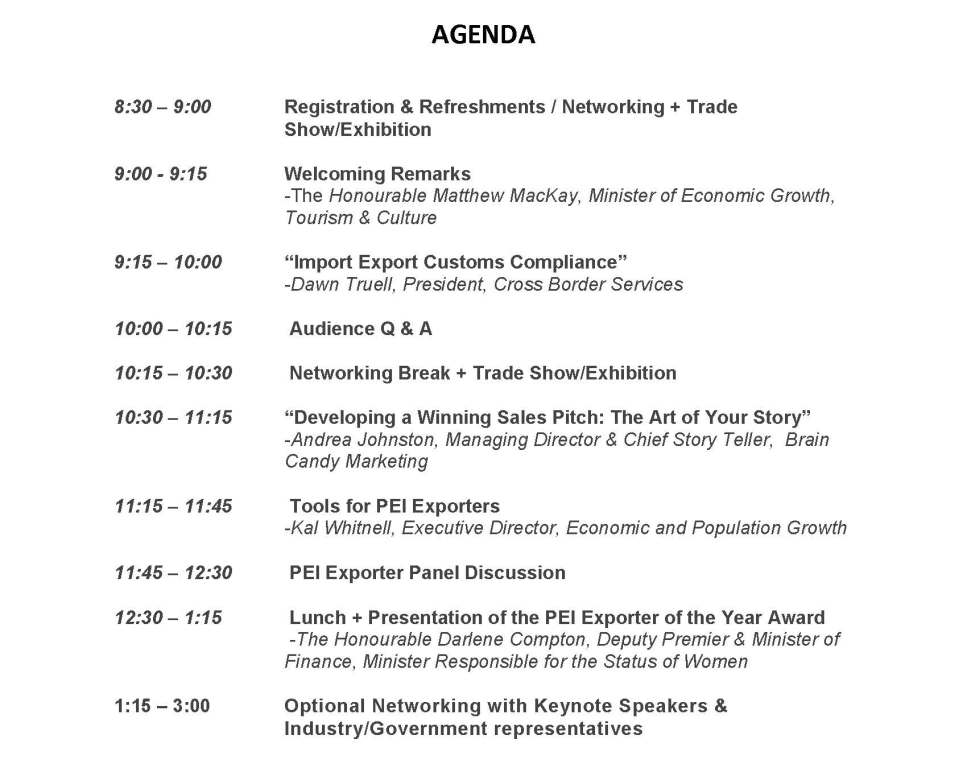 If you have any questions, please contact Alicia Birt by e-mail at albirt@gov.pe.ca or by phone (902) 368-6837.
We look forward to seeing you at #PEIExportDay2019
Oct
1
Tue
2019
CONXEMAR Trade Mission

@ IFEVI - Avenida do Aeroporto, 772, 36318 Vigo (Pontevedra). España
The Conxemar trade show takes place in Vigo, Spain, an important fishing port in Europe, and serves as the meeting point for the entire processing branch, distributors, importers and exporters of frozen seafood products. Since its inauguration in 1999, it has grown steadily in visitors and exhibitors, with an exhibition area of 31,500 m². It is the most important Fish and Seafood trade show in Southern Europe, with significant international presence and dozens of national pavilions.